Training
At any level, any step of modeling, our engineers provide you the opportunity to gain additional knowledge on FASTRAD software.
Organisation:
The hands-on training allows participants to assess the practical value of such a tool. An in-company training using your equipment or training in our premises, we can propose a training session broken down in separate modules and tailored to the specific needs of your company.
FASTRAD® training sessions:
'All about FASTRAD®' – For FASTRAD® beginners
'FASTRAD® scripting module' for FASTRAD® users
'FASTRAD® Advanced' for FASTRAD® users
FASTRAD® consulting session and complementary training can be also provided on request
Program example:
Review of software features
CAD tool and STEP import
Material property management
Dose calculation by sector analysis and Monte Carlo
Radiation shielding calculation
Hands-on exercises
* Modeling of an electronic equipment
* Using the components database
* Applying calculations to a satellite platform
* Shielding definition
Profile required :
Engineer level or equivalent in:
Quality assurance
Systems Engineering
Equipment Design and Embedded Instruments
Research and Development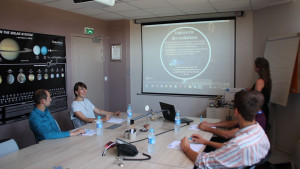 Online training available
Other radiation training available :
Characterisation of radiation effects on materials
Characterisation of radiation effects on electronic components etc.
More info on www.trad.fr